Tim and I attended the 2011 TD Ameritrade Conference in San Diego earlier this month.  There were over 60 educational or keynote speakers to see and hear.  I thought I would briefly share a few highlights from six of the sessions I attended.
General Colin L. Powell
General Powell was the conference keynote speaker.  He was a last minute replacement for Former Prime Minister Tony Blair who was called to Egypt as a result protests and unrest in that country.  Tony Blair brought a round of laughter from the crowd of over 2,500 when he said in a recorded message that he thought he would tackle something easy like peace in the Middle East after he retired as prime minister.
Powell was humorous and thoughtful as he shared experiences from his career and life.  Powell shared his thoughts about President Reagan's optimism in America and his belief in Americans and wished he "could put all of Reagan's optimism in a bottle and pour it over the heads of politicians in Washington."
I loved the story of his favorite hot dog vendor in New York City and how he would always stop to get a hot dog when he was in public service.  Powell shared that when he was in New York City after he left public life he stopped to get a hot dog.  After pulling cash from his wallet to pay for the hot dog, the vendor, who came to this country 40 years before, refused to take his money and told Powell the following:  "I know who you are.  You are Colin Powell.  I've been paid.  America has paid me.  You paid me with your public service.  I have taken the opportunity that you have given me, and I am grateful."
Professor Jeremy Siegel
Dr. Siegel is a professor at the University of Pennsylvania's Wharton School of Finance and author of Stocks for the Long Run.  He was very dynamic and shared some charts and thoughts.
One chart showed what $1 after inflation would have grown to in various asset classes from 1802 through 2010.  It was surprising to see that Gold grew from $1 to $4.02 and U.S. Stocks grew from $1 to $699,088.  He believes that "people who recently bought gold are going to be disappointed in five years."
He also showed a chart of U.S. stocks going all the way back to the 1800s.  This chart showed a trend line for U.S. stock prices going back to the 1850s with annual price fluctuations above and below the line.  If stock prices were above or below the trend line during various years, the prices were eventually drawn back to the trend line.  Siegel believes that as of December 31, 2010, the U.S. was 20% below it's long term trend.  During the Financial Crisis and Great Recession the U.S. stock market fell to 39.4% below the trend line–the fifth largest deviation during this period of time.
Siegel shared many other statistics but it was clearly obvious that he believed in "Stocks for the Long Run."
Alan Simpson and Erskine Bowles
Former Senator Alan Simpson and former White House Chief of Staff Erskine Bowles shared their experiences and thoughts as co-chairs of the National Commission on Fiscal Responsibility and Reform.  Simpson started the discussion by saying they had 14 reasons to inject themselves into the deficit-reduction debate.  "He [Bowles] has eight grandchildren and I have six."
According to Simpson and Bowles balancing the budget is a matter of addressing the substantive areas of Medicare, Medicaid, Social Security and defense.  Simpson said, "If you don't cut these, you have to cut everything else by 75%."
The Commission's report addresses getting rid of loopholes, broadening the base and simplifying the tax code. They believe that by getting rid of the $1.1 trillion of earmarks in the tax code, "we can take the rates to 8 percent up to $70,000, 14 percent up to $210,000 and 23 percent above that, with a corporate tax rate of 26 percent."  At that point, they agree, America will again be a great place to start and grow a business.
Craig Alexander
TD Ameritrade Chief Economist Craig Alexander shared his insights.  He reminded us that two years ago the media was talking 24/7 about the long-term global depression and failed to predict we would be where we are today.
He made the point that "we are a year and a half into recovery but consumers and  businesses clearly don't feel like they've reached the far end of the valley."  He said said it typically takes twice as long to recover from a financial crisis than it would take from a normal recession.
He felt that inflation would not be an issue for several years due to the huge overhang of inventory at the present time.   But he thought the job market would continue to disappoint since you need 200,000 new jobs each month to keep unemployment from rising.  And with the people leaving the labor market the REAL unemployment rate was closer to 16%.  However, he was not concerned about unemployment as a predictor of the economy since unemployment is a lagging indicator of the economy and stock market.
Alexander said the consensus among economists is for 3% growth of U.S. GDP this year and next year.  However, Alexander felt this was too conservative and was projecting a 3.5% to 4% growth.
For the most part, Alexander agree with Professor Siegel and felt that investors who are not participating in the market will be kicking themselves.
Dewitt Jones
We also had the privilege of listening to Dewitt Jones, a motivational speaker and former photographer for National Geographic.  What made him unique was that he shared his photographs and stories behind the photographs as he spoke on his theme of "falling in love with the world" and "celebrating what is best in the world."
If you ever have the chance to listen to him, don't pass on it.  In the meantime, you can see many of his beautiful photographs by clicking on this web site.
Andy Hill
Any Hill shared his view for life successes and happiness based upon principles he learned from Coach John Wooden.  Andy was a member of three consecutive NCAA Championship basketball teams under the guidance of Coach Wooden.  Any later served as President of CBS Productions from January 1991 through April 1996 and was responsible for successful shows including Touched by an Angel, Dr. Quinn: Medicine Woman, Walker Texas Ranger, etc.
I enjoyed learning about Coach Wooden's pyramid of success and used it to inspire boys to be men and better citizens.  I have included it below: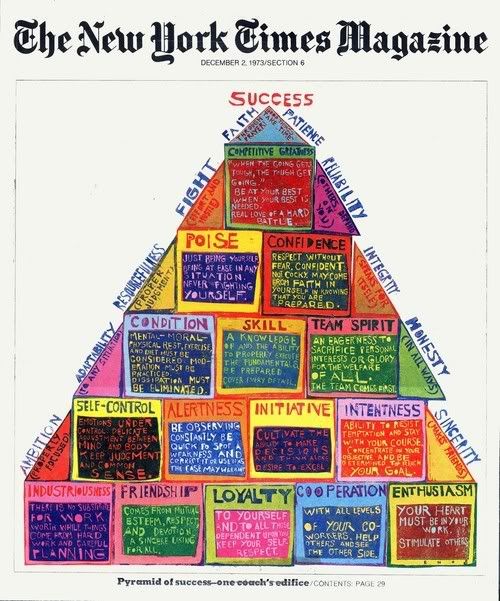 I also loved the following poem that Coach Wooden would often recite:
No written word, no spoken plea
Can teach our youth what they should be,
Nor all the books on all the shelves.
It's what the teachers are themselves.